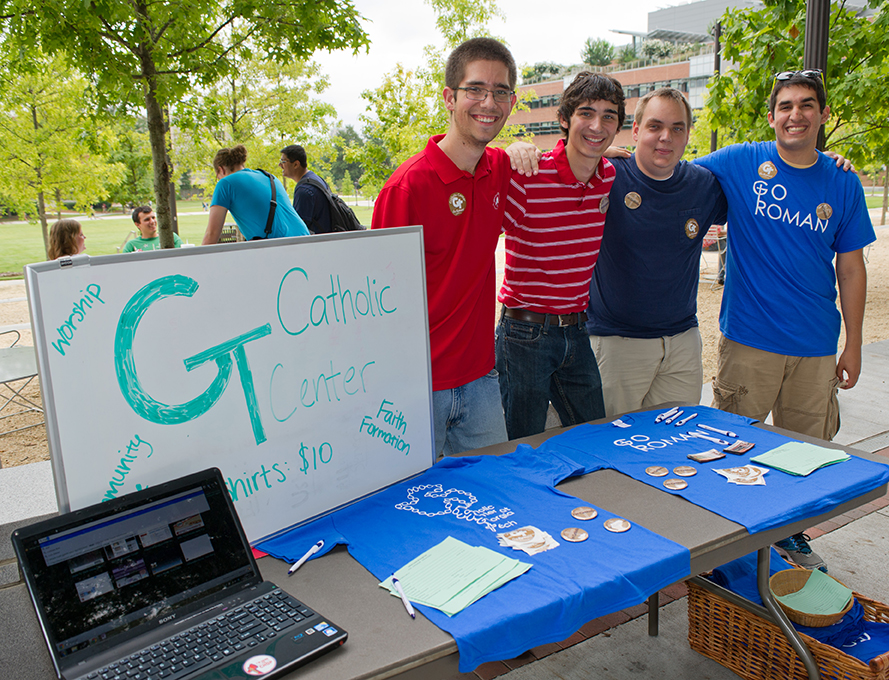 Aug 28, 2017 - Atlanta, GA
Update: Due to inclement weather, the Student Organization Fair has been postponed. New dates will be shared soon.
This week, new and returning students will have the opportunity to join any number of Tech's hundreds of student organizations during the annual Engagement Week Student Organization Fair.
On Wednesday, Aug. 30, and Thursday, Aug. 31, representatives from student groups will be on hand to talk about their group's mission, goals, and activities. Many let students join on the spot.
Wednesday will feature cultural, Greek society, honor society, leisure/recreational, professional/departmental, religious/spiritual, and sports groups. Thursday will feature educational, civic engagement/service, performance, political, and production groups. 
Studies have shown that students who are involved on campus get better grades and more job offers, and are ultimately more satisfied with their undergraduate experience than peers who aren't involved in an organization or other activity outside the classroom. Studies have also shown that the happiest people are those who lead balanced lives and develop close relationships with others. Attending Engagement Week events can be the first step in building these emotional connections in a new place.
Nitin Singh, a fourth-year industrial and systems engineering major and president of the Presidents Council Governing Board, offered a few tips for students about getting involved and approaching Engagement Week.
Try something new. "College is all about new experiences. With hundreds of organizations on campus, you have the opportunity to step out of your comfort zone and join something you may not have previously tried."
Don't overwhelm yourself. "Don't try to join every single organization you come across. Find the ones that you are genuinely passionate about and go from there."
It's never too late to get involved. "You don't have to be a freshman to get involved. If you didn't get as involved your first couple years at Tech, it doesn't matter. Organizations are looking for diverse members, so don't be afraid if you're older."
It doesn't have to be hard. "Be adventurous — go to the Engagement Week fair, go to open club meetings, and use the resources that Tech provides. Getting involved isn't hard, and everyone loves new faces."
The showcase of campus organizations runs Aug. 30-31 from 11 a.m. to 1 p.m. at Tech Walk. Students unable to attend can browse an online directory of all of Georgia Tech's student organizations via OrgSync, or contact Student Engagement at leadandengage@gatech.edu.
The full Engagement Week agenda includes:
Aug. 26: Into the Streets — Freshman day of service
Aug. 27: T-Night — Traditions celebration
Aug 28: Photos with the Ramblin' Wreck
Aug. 29: Campus Partners Fair
Aug. 31: Volunteer Fair