The Office of the Dean of Students has a long and rich history and tradition at Tech, 99 years of providing support and advocacy on behalf of students! The Office assists students in the resolution of problems, provides information about, and referral to campus resources, and promotes initiatives that address students' needs and interests. In addition the Office provides educational and co-curricular activities and experiences that encourage students to have a positive college experience.
Student Assistance Services
The Office of the Dean of Students provides a number of services to assist students with medical and personal emergencies. To access these services during regular business hours, students and/or their families may notify the office at (404) 894-2565. In the event of an after-hours emergency, individuals should contact the Georgia Tech Police Department at (404) 894-2500 and request that the "Dean on Call" be contacted. There is an emergency "Dean on Call" at all times to assist students in need.
Personal Referrals
The Office of the Dean of Students can contact the many campus resources such as the Counseling Center, Women's Resource Center, Health Center, and other community services for assistance in arranging emotional or personal support for students.
Academic Referrals
Students often need assistance in making decisions about academic matters. Our office can assist students with contacting their faculty and/or major department to resolve questions or concerns.
Withdrawing from School
Some students find that a personal or medical emergency during the school term can impact their ability to attend classes or make up the missed work. In these cases, students may decide to withdraw from Tech. Our office can assist with the Georgia Tech withdrawal procedures.
Assistance in Contacting and Coordinating Family Needs
The Office of Dean of Students can serve as a contact point for families. Please feel free to contact us regarding any questions you have about policies, services, and special events. Parents and family members who are concerned about the well-being or success of their student are encouraged to contact our office for advice and support.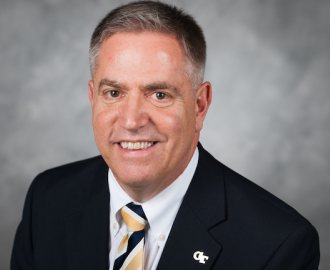 Meet the Dean of Students!
John M. Stein has a career in higher education that spans over 30 years. Stein has been with Georgia Tech since 2002, having served as the Director of Success Programs from 2002-2006, AV and Dean of Students from 2006-2015, and VP for Student Life/Brandt-Fritz Dean of Students Chair from 2015-2021. He's currently our AVP for Student Engagement & Well-Being and Brandt-Fritz Dean of Students Chair.
Prior to Georgia Tech, Dean Stein held a number of administrative positions at various colleges including working in Residence Life and Housing, Academic Advising, and Student Affairs. John has served as the Dean of Students at two others colleges before being appointed Dean of Students at Georgia Tech.
Stein's educational background is in psychology and education. He earned a BA in Psychology from the State University of New York and two Masters degrees: one in Counseling Psychology and the other in Educational Psychology.