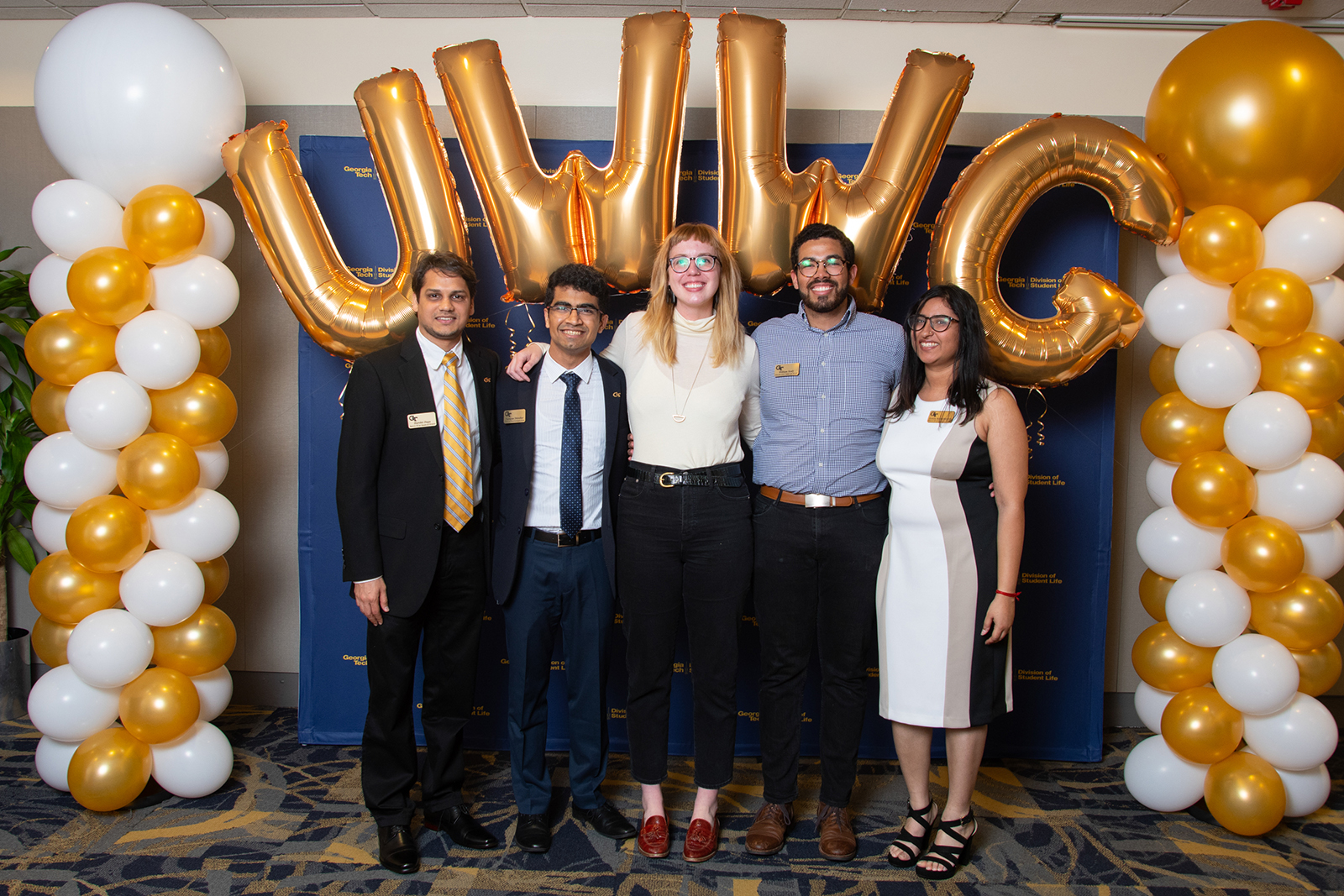 Apr 17, 2019 - Atlanta, GA
Nearly 100 individuals and groups from across campus were honored this week at the annual Up With the White and Gold awards ceremony on Monday, April 15.
The celebration honors the achievements, hard work, and dedication of student leaders and student organizations and is co-hosted by the Division of Student Life and Presidents Council Governing Board.
The event highlights the significant role that student leadership and involvement plays on campus.
"From creating and building community and belonging, to winning local and international competitions, our students lead the Tech community in identifying and trailblazing ways to create the next entrepreneur, innovator, social change agent, big dreamer, and much more," said Quinn Foster, student organizations coordinator in the Center for Student Engagement.
The event also honors faculty and staff and the role they play in student organizations, with a portion of the program dedicated to honoring outstanding employees and their work. The Presidents Council Governing Board also presents Burdell's Best and All-Star Organization awards. These honors are designed to encourage student organizations to attend events that are beneficial in the areas of organizational enrichment, teambuilding, networking, service, and collaboration. Organizations can earn points by participating in various events and activities in certain categories.
This year's Up With the White and Gold honorees were:
Awarding Group: Division of Student Life
TECHcellence Award
Nydrel Jack
Mykala Sinclair
Matter of Degree Award
Alcohol and Other Drug Action Committee
Awarding Group: LEAD
Graduate Student Excellence Award for Leadership and Service
Emily Lustig
Emerging Student Leader Award
Olivia Amyette
Awarding Group: New Student & Transition Programs
Impact Award
Maddie Sibilia
Awarding Group: Women's Resource Center
Yvette Upton Empowerment Award
Renee Shelby
Make a Difference
Lauren Moye
Awarding Group: Health Initiatives
Certified Healthy Bronze
Phi Sigma Kappa
Yellow Jacket Roller Derby
Young Democratic Socialists of America
Certified Healthy Silver
GT Tour Guides
Muslim Students Association
Pride Alliance
Sigma Phi Epsilon
Theta Chi
WRECKless
Certified Healthy Gold
Delta Sigma Phi
Explore Living Learning Community
Kappa Alpha Theta
SKY
Awarding Group: SGA
Community and Constituent Engagement Award
Shekinah Hall
Committee of the Year Award
Resolutions, Undergraduate Legislative Reserve, Appropriations, and Legislative Strategies (RUALS) Committee
Student Council Member of the Year
Nathan Knauf
Georgia W. Braxton Award
Darryl J. Terry II
Awarding Group: ANAK Society
Semmes Scholarship (Winner)
Lorenzo Capasso
Semmes Scholarship (Honorable Mention)
Jenny Li
Jade Marcus
Award Group: Omicron Delta Kappa
Joseph Pettit Memorial Award
Aarushi Khajuria
John Hannabach Achievement Award
William Harrer
ODK Senior Salute Award
Halle Bryan
Awarding Group: Society of Women Engineers
Georgette P. Burdell Award
Mahati Vavilala
Outstanding Engineer Award
Isabella Sanders
GEAR Award
Salmata Barrie
Awarding Group: Student Alumni Association
Most Spirited Student
Sarah Liu
Awarding Group: Interfraternity Council
Outstanding Scholastic Programming
Alpha Sigma Phi
Educational Programming Award
Alpha Tau Omega
Philanthropy / Community Service Award
Beta Theta Pi
Leadership Award
Beta Theta Pi
Brother of the Year
Jack Rager
James E. Dull Best Overall Fraternity Award
Beta Theta Pi
Awarding Group: Student Foundation
J. Erskine Love Jr. Philanthropy Award
Caroline Wu
Awarding Group: Collegiate Panhellenic Council
Alpha Impact Award
Molly-Kate Gavello
Best New Member Award
Brigit Joyce
Outstanding Executive Member Award
Emelia Funnell
Judith Prity Award
Carole Kennedy
Philanthropy and Community Service Award
Phi Mu
Chapter Relations Award
Kappa Alpha Theta
Panhellenic Spirit Award
Phi Mu
Chapter of Excellence Award
Zeta Tau Alpha
Outstanding Community Service Award
Lillianne Daniels
Awarding Group: Multicultural Greek Council
Most Involved
Delta Phi Lambda
Most Philanthropic
Sigma Beta Rho
Best Philanthropy Project
Delta Sigma Theta
Best Educational Program
Delta Sigma Theta
Awarding Group: National Panhellenic Council
Best Collaborative Program
Phi Beta Sigma
Delta Sigma Theta
Pinnacle Award
Delta Sigma Theta
Awarding Group: Order of Omega
Greek Man of the Year
Ian Campbell
Greek Woman of the Year
Heather Smith
Awarding Group: PCGB
All-Star Organizations:
AMSA
Alpha Phi Alpha
Ramblin' Reck Club
SAA
SKY
Theta Chi
Omega Phi Alpha
SCPC
Pride Alliance
Burdell's Best:
Best Overall Event:
Residence Hall Association
Ramblin' Reck Club
Best Collaborative Event
Graduate Student Government Association
Most Creative Campus Outreach
Georgia Tech Student Alumni Association
Best New Organization
Boxing Club
Best Ongoing Service Project
Alternative Service Breaks
Best Short-Term Service Project
Omega Phi Alpha
Most Improved Organization
Ramblin' Rocket Club
Best Organizational Culture
Outdoor Recreation at Georgia Tech
Most Impactful President
Luke Bumgardner
Most Creative Fundraiser
Society of Women Engineers
Organization of the Year
Swim Club
Society of Women Engineers
India Club at Georgia Tech