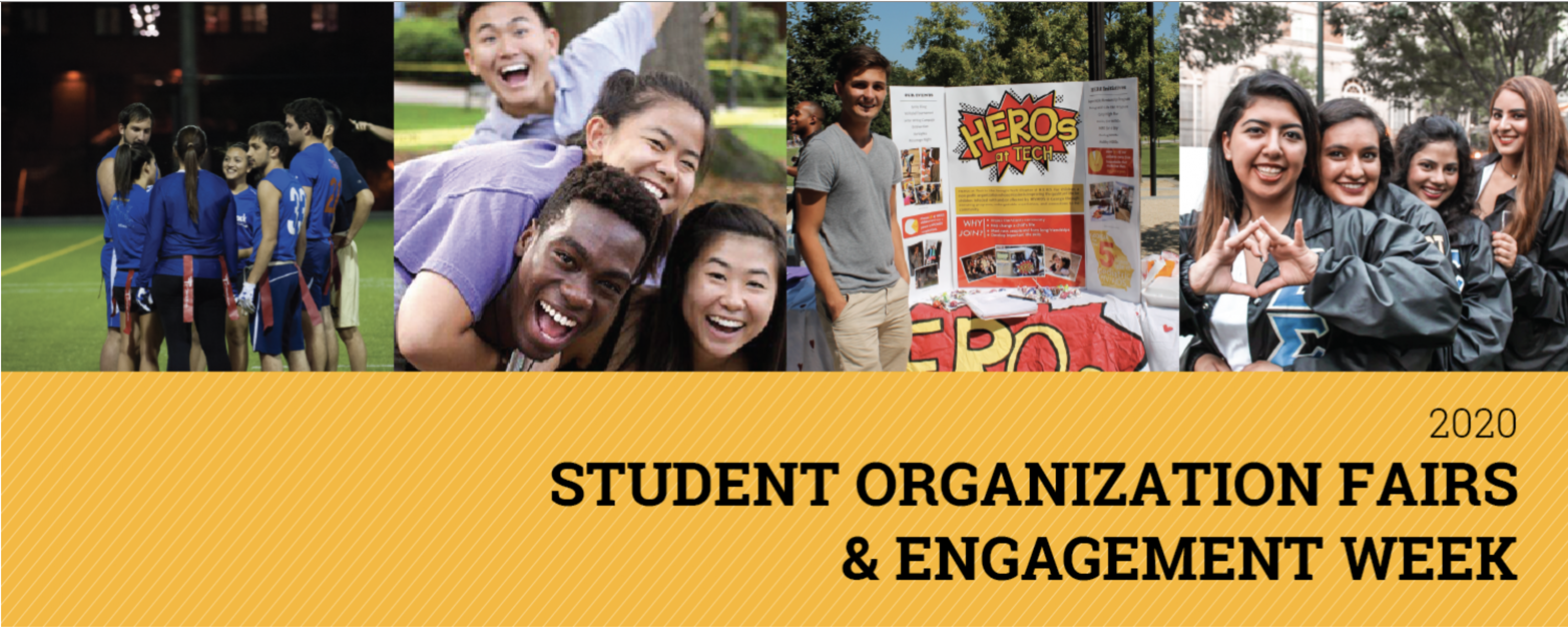 Jul 29, 2020 - Atlanta, GA
Tech's Student Organizations Fairs are going virtual for the fall semester, and all students, new and returning, will have the opportunity to explore the many student organizations Georgia Tech has to offer. Each semester, the fairs are hosted by the Center for Student Engagement and the Student Government Association (SGA), enabling students to network with over 550 registered student organizations (RSOs). 
In the coming weeks, students can look forward to two unique fairs. First-year and transfer students are invited to attend the Week of Welcome Fair, as a part of the Week of Welcome, happening Aug. 8 – 15. All students can participate in the Fall Organizations Fair that will take place Aug. 24 – 28, which will also include various departments and offices from across the Institute. 
"The Fall Organizations Fair is one of my favorite events at Georgia Tech," said Quinn Foster, director of Student Organizations in the Center for Student Engagement. "It's quite a sight to see hundreds of organizations and their members showing off everything that they do, encouraging others to join in the fun. I have seen firsthand how transformative organizations at Tech can be. For myself, getting involved in student organizations helped me quickly develop a strong community that I know I can rely on, and provided a space to grow my leadership and interpersonal skills." 
Foster, and the Center for Student Engagement, have been working hard to make sure the transition to online events goes smoothly. "I have seen how excited organizations are to share their work and welcome new members," Foster said. "I hope all of our incoming and returning students will get the chance to browse through this year's Fall Organization Fair, and potentially find a new home away from home within a student organization."
To participate in both fairs, students can use either Engage or FlipGrid to search for RSOs of interest and to research their mission, values, and requirements. Students can use both platforms to reach out to members of each RSO to introduce themselves and receive additional information. During the Fall Organizations Fair, RSOs will have the option to host virtual introductory events to greet prospective students and provide more details on membership. Students can also use Engage to see if the RSOs they're interested in are hosting events during the week.  
"We're excited to connect with students in a virtual capacity," Foster said. "Even though this experience cannot replace or replicate an in-person organizations fair, the Engage and FlipGrid platforms are sustainable ways to keep our RSOs and campus partners connected with new and returning students throughout the fall semester." 
All students are encouraged to participate in the fairs to learn more about getting involved beyond the classroom. Joining an RSO is an effective way to connect with peers, boost your resume, and expand your Tech experience. 
Students who are interested in attending the Student Organizations Fairs can explore a number of organizations including educational, civic engagement, service, performance, political, production-focused, cultural, Greek society, honor society, recreational, professional, spiritual, and sports-focused groups — to name only a very few. With the new virtual format, there is an opportunity for students to search at their own pace and to find the RSO that fits their interests and goals. 
Click here to learn more about participating in the fairs. For more information on getting involved outside the classroom, visit student-organizations.gatech.edu or view the 2020 Involvement Guide: https://student-organizations.gatech.edu/fall-2020-involvement-guide.