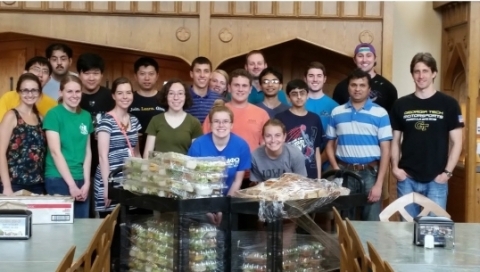 Download image
Sep 24, 2021 — Atlanta, GA
Progress and service are two constants that guide Georgia Tech's Campus Kitchens Project in providing support and sustainable food options for our community. Started in 2013, the Campus Kitchens Project is a service within the Students' Temporary Assistance and Resources (STAR)'s Klemis Kitchen, which brings members of the Georgia Tech community together to prepare and deliver meals to those in need. The organization's goal is to reduce food waste on campus and give back to those around us, on campus and in Atlanta.
"This semester, the STAR Office anticipates more than 100 students will rely on Klemis Kitchen for at least a few meals each week," said Steve Fazenbaker, director of STAR. "The food recovery work that the Campus Kitchens Project does is essential in our ability to make sure every student on campus has enough to eat. We could not do what we do without the many volunteers involved with the project."
Georgia Tech makes it a priority to minimize food and energy waste. Because of this mission, Campus Kitchens receives weekly donations from any overproduction in Dining Services. Volunteers come together each week to package the leftover food for distribution. Typically, excess food is thrown away. However, this organization ensures that both students in need and members of the Atlanta homeless population receive the food packages.
"I can eat better, I can sleep better, I'm healthier, and my grades have improved thanks to the reliable food source that Klemis Kitchen provides," said a second-year physics student. "It's amazing how far a little bit of food can go for college students in need." 
Many students at all academic levels have had the opportunity to receive food packages. Even during the Covid-19 public health crisis, volunteers have worked to keep the mission going.
"Throughout the pandemic, Klemis Kitchen has provided nutritious food that helped me to fully focus and excel on my academic work," said an electrical and computer engineering graduate student. "I am truly grateful for having this program on campus, and for how much it changed my experience as a student."
If you are interested in volunteering for food packaging shifts or learning more about the Campus Kitchens Project, click here.
To assist students in need by making a gift in support of the project, visit the Office of Development's STAR giving page.