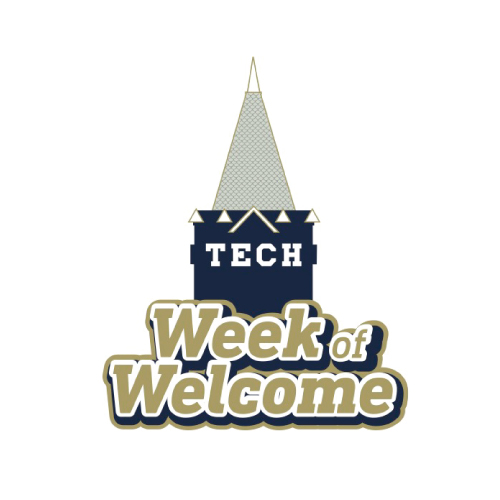 May 15, 2023
Georgia Tech's annual new student welcome event, Week of Welcome, returns for its fourth year, bringing campus partners together Aug. 15 – 20.
The week invites first-years, new transfers, and new graduate students to become acquainted with campus, their peers, and Atlanta the week before classes start, with the goal of a stress-free transition to Georgia Tech. First-year students move into campus residence halls on Sunday and Monday, Aug. 13 and 14, and returning students move in Aug. 15 – 19. As returning students arrive back on campus, they will be welcomed and encouraged to participate in Week of Welcome events and workshops, either by attending or hosting.
From Aug. 15 to 20, new students will have the opportunity to participate in workshops, events, and outings. Departments, colleges, campus offices, and registered student organizations are invited to host engaging and informative workshops during business hours to help share information on any particular area of interest or about their particular role and mission on campus.
"Week of Welcome is a fantastic opportunity for students to explore their new home and for departments and student organizations to showcase what the Georgia Tech community has to offer," said Christian Duetemeyer, president of the Student Center Programs Council (SCPC).  The council plans a welcome party for new and returning students during Week of Welcome in addition to planning off-campus trips around Atlanta.
The Residence Hall Association (RHA) also planned several events for Week of Welcome 2022. As RHA Director of Programs Parker Green recalled, "The highlight of the week for me was running events myself. Being able to facilitate connections and forge new relationships among my fellow students, while also gaining invaluable leadership experience, was priceless, and it had an indelible impact on my academic and personal growth."
Student organizations and groups are not the only ones who can plan and implement workshops for new students during Week of Welcome. Faculty and staff are also encouraged to participate.
"The Georgia Tech Library hosted our Week of Welcome event, RATS Night," for Recently Acquired Tech Students, or RATS, "along with six tours during last year's Week of Welcome," said Catherine Manci, public programming and community engagement librarian. "We had over 1,800 students come to the Library for RATS Night alone. While pulling off these events took lots of coordination, the payoff was worth it to welcome students into our buildings and familiarize them with our services." The Library will be hosting the event again this year.
Afternoons and evenings during the week will be filled with social events for new students to engage with one another and get to know their community. Each day, there will be large, signature events hosted by departments that include Athletics' House Party at Bobby Dodd; Taste of Tech Square; the CRC's RecFest; RATS Night; Yellow Jacket MegaMixer; Rock, Ramble, and Roll; SCPC's Welcome Party; and New Student Convocation.
New to Week of Welcome this year, campus offices, departments, schools and colleges are invited to host Office Open Houses to introduce students to their spaces and services. Office Open Houses are planned for Friday, Aug. 18, from 10 a.m. to 5 p.m.
If you are interested in hosting an event or facilitating a workshop to help introduce incoming students to life at Georgia Tech in August, fill out the Week of Welcome Program Submission Form by June 30. Events and workshops will be featured on the Week of Welcome Guide through the Georgia Tech Guidebook app that students download to attend FASET.
For the latest information about Week of Welcome as planning evolves, visit welcomehome.gatech.edu. For questions about Week of Welcome, email Brett Hulst at hulst@gatech.edu or Carly Bloomingdale at carly@gatech.edu.