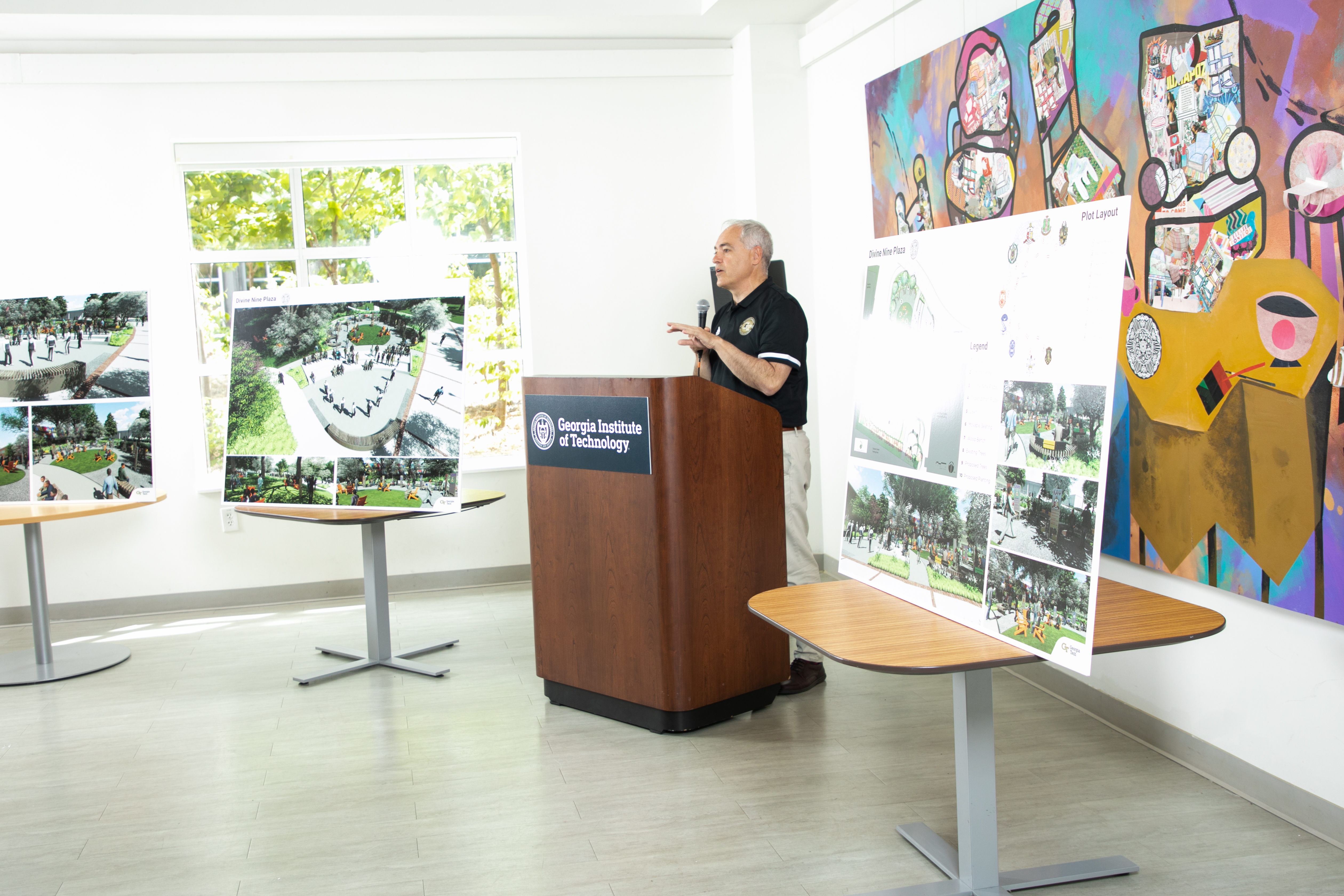 Apr 27, 2023
Georgia Tech held a groundbreaking ceremony on Saturday, April 22, for the Divine Nine Plaza installation, located between the Smithgall Student Services Building and the Student Center Plaza building behind the Student Center parking deck.  
"[This site] will serve as a testament to the legacy of the generations who have walked before us," said fourth-year industrial engineering major, Jordine Jones. "It will also speak to the power of a community laying the groundwork for those who come after." 
The history of the Divine Nine (also known as the National Pan-Hellenic Council or NPHC) at Georgia Tech goes back almost 50 years, when the Delta Kappa Chapter of Omega Psi Phi Fraternity obtained its charter in 1976. This site will be the first at Tech to be devoted to the Divine Nine as a whole and will join campuses all over the county that have installed plots to celebrate the Divine Nine in celebration of their communities, students, and alumni. 
"I'm exceedingly proud of our students and alumni for leading this charge from the beginning," said President Ángel Cabrera at the groundbreaking. "And I'm excited to see all the ways this new space will prove to be a boon and a blessing to our campus community for future generations of Yellow Jackets." 
The nine member organizations of the NPHC are Alpha Phi Alpha Fraternity Inc., Alpha Kappa Alpha Sorority, Kappa Alpha Psi Fraternity, Omega Psi Phi Fraternity, Delta Sigma Theta Sorority, Phi Beta Sigma Fraternity, Zeta Phi Beta Sorority, Sigma Gamma Rho Sorority, and Iota Phi Theta Fraternity.
"This plaza and the Divine Nine plots sit along our recently established experiential pathway — which was designed to recognize student contributions, service, and leadership," Luoluo Hong, vice president for Student Engagement and Well-Being, said. "As such, it is an ideal location to highlight the activism and advocacy, the history and traditions, as well as the culture and community that are the legacies of these foundational NHPC organizations." 
The plaza will feature nine plots representing organizations in the NPHC and an amphitheater for events and performances. The Divine Nine Plaza will offer an opportunity for NPHC organizations to gather and foster community engagement and programming. It is scheduled to open in Fall 2023.