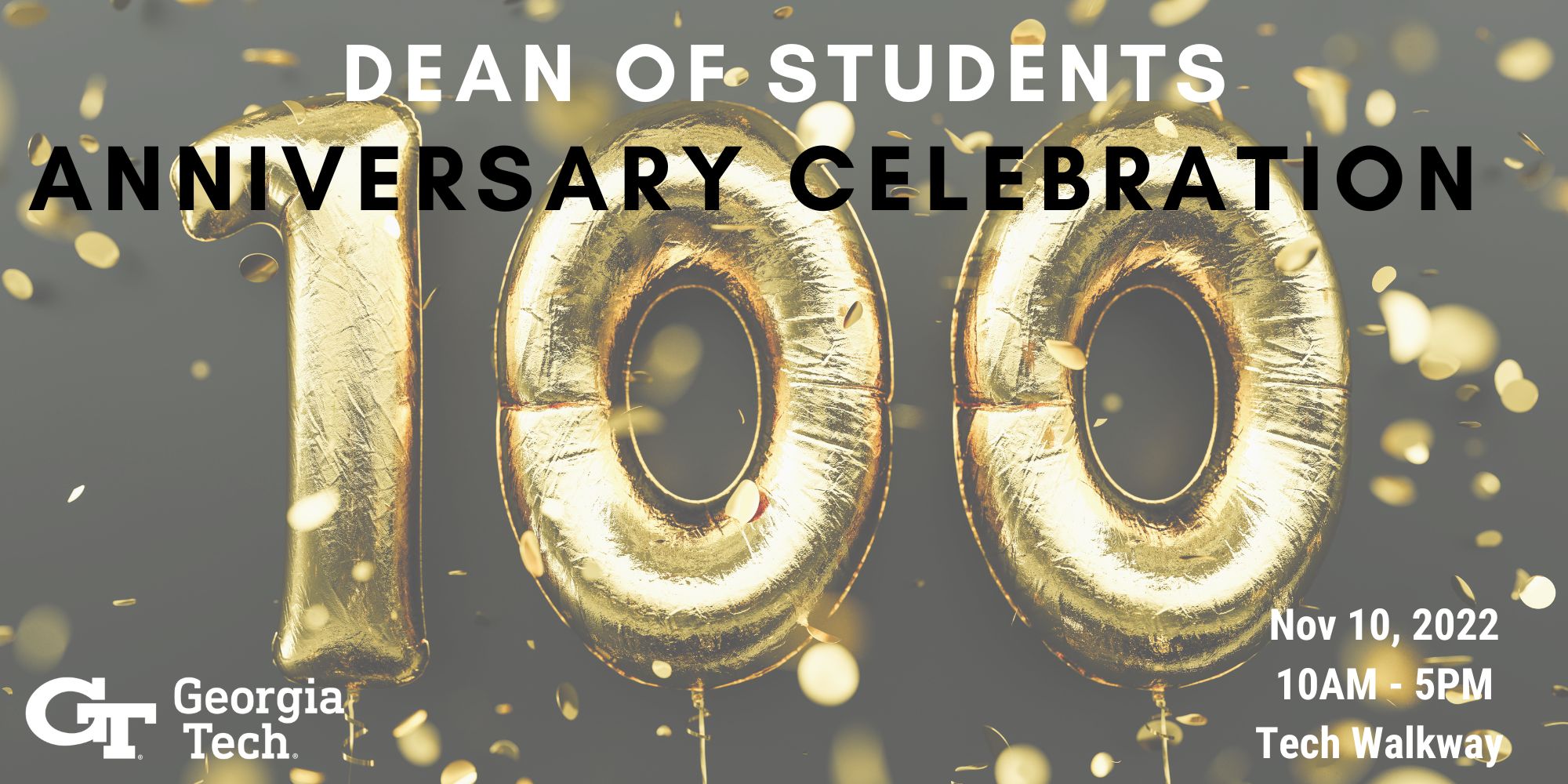 Nov 09, 2022 - Atlanta, GA
 This year, the Dean of Students office is celebrating 100 years of service to Georgia Tech students and the Institute. After a century, the mission and purpose of the office remains the same: be a friend, advocate, and support system for Georgia Tech students in times of celebration and struggle. 
"It is an honor to be serving in the role of Dean of Students during this 100th anniversary year," said John Stein, associate vice president for Student Life and Brandt-Fritz dean of students chair. "My staff and I work hard every day to carry on the tradition of caring, supporting, and advocating for Georgia Tech students." 
The position started in 1922 with Floyd Field who was named Dean of Men.  At the time, Field was approached by a group of students seeking an advocate and support person within the Institute's administrative system who could guide and assist them throughout their academic careers. The position was renamed the Dean of Students shortly before Field retired in 1946. 
Since Dean Field, only five people have served in the role. Field was followed by Dean George Griffin (1946 – 1964), Dean James Dull (1964 – 1992), Dean Gail DiSabatino (1995 – 2006), and John Stein, who has served since 2006. 
The Office of the Dean of Students has now expanded to a team of nine, with four associate deans and four assistant deans working with Dean Stein. 
"Working with our students is what I enjoy most about my job and what inspires me each and every day," said Stein. "Our students are some of the brightest, most caring, engaged students I've met. Their loyalty to Georgia Tech is amazing and it is my honor to continue the tradition of service to our students that Dean Field began 100 years ago." 
Join Dean Stein and the entire Dean of Students staff for a celebration on Thursday, Nov. 10, from 10 a.m. to 5 p.m. in the plaza outside of the Ferst Center and inside Smithgall Student Services (Flag) building. The event will feature student performances and activities, food, and music, and will culminate with a special performance. Dean DiSabatino, along with other former associate and assistant deans, will attend, and the entire campus community is invited to join in the celebration. 
**Event moved indoors and to the Ferst plaza due to inclement weather.**